The changing portuguese real estate market ( Part 2 )
Emerging sources of clients, supply versus demand imbalances and much more.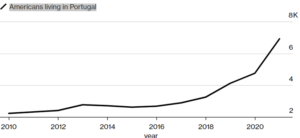 The increase in the presence and importance of the North American market
The Portuguese borders agency, SEF, has reported a large growth in US citizens choosing Portugal as their residence. While admittedly from a tiny base, the growth of this market underscores the increase in relative wealth of the average person seeking Portugal as their new home. Even those Americans who only receive Social Security payments, are receiving a pension substantially above the Portuguese average. The Canadian market is equally important, because a number of Canadians of Portuguese descent are seeking a return to their roots, and although the Canadian dollar does not represent the same purchasing power as the US dollar, incomes are substantially above those in Portugal. The USD and CAD have appreciated 20% and 14%, respectively, over the last year.
As Bloomberg reports, "retirees and the wealthy have traditionally been the prime buyers of real estate in Europe. But relatively cheap housing — particularly in smaller cities and towns — and the rise of remote work have made the continent alluring to a wider range of people, including those who are younger and find themselves priced out of the housing market at home. Growing crime rates in some US cities and political divisions have also led Americans to look across the pond for a quieter lifestyle, buoyed by a euro that just dropped to parity with the US dollar for the first time in more than 20 years."
The effect of the supply and demand imbalance
Essential Business, in an article in July 2022, cites that the "residential segment, which today is highly dependent on real estate development (new build) is Portugal's weak point at present, with the number of units absorbed by pre-existing products (second-hand) in the market far more expressive when compared to new products, owing to an absence of sufficient new stock in the market. The new build market has flatlined since 2011."
In an article, also in July 2022, published by the idealista portal, it is reported that there has been a 25% decrease in available inventory over the preceding 12 months. This problem is most acute in the Algarve problems, where supply has diminished 37% year on year.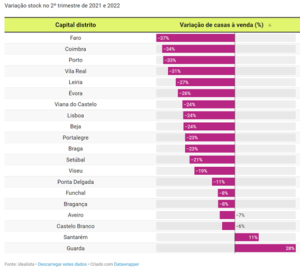 Although rents have also gone up in value, they have not done so by the same margin as sales prices. For this reason, and despite the perception that rents have become expensive relative to 2010, they are still more competitively priced in 2022 than properties for sale.
https://www.allaboutretirementoverseas.com/wp-content/uploads/2022/09/Picture1.png
392
850
Luis Teixeira da Silva
https://www.allaboutretirementoverseas.com/wp-content/uploads/2021/01/overseas-logo-2-min-300x168.png
Luis Teixeira da Silva
2022-09-23 11:27:43
2022-10-03 11:18:41
The changing portuguese real estate market ( Part 2 )